Jewelry Payless Review, Coupon Code & Giveaway
10:16 PM
I just realized that there is absolutely no doubt in anyone's mind that I love pretty, sparkly, shiny things. I would say it's a weakness but hello, I kind of think having lots of pretty sparkly things can't possibly be weak. If anything, it's powerful considering how distracted it can make people. If I were a superhero I would probably be a sparklemonster and every time I ran by, everyone would be put into a happy coma with a bit of drool dripping down.

*nods*

This is why I am especially happy to show off a few pieces that I received from Jewelry Payless. I mean, there are companies that contact you as a blogger and it's not always so common to see their wares and immediately say "Yes, please!" but in this case I can honestly say that it does fit in exactly with my own personal style. In the e-mail that Raymond of JP sent me, he actually said that he noticed in my Gradient Nail Tutorial that I was very much into fashion rings. Yes, yes I am. ;D

Here's my video review of what I received and also a coupon code and giveaway:


Discount code:
25FROMHEADTOTOE
for 25% off at
http://www.jewelrypayless.com
from now until November 15th, 2010.
Products mentioned:
Three Stone CZ Sterling Silver Costume Ring
Curvy Micro Pave CZ Sterling Silver Fashion Ring
Angel Wings CZ Sterling Silver Stud Earrings
Sterling Silver Aqua
Cat Eye Necklace
And here are the lovely jewelry items in picky pics:
I love wing jewelry of all types! So glad I can replace my old, non-sterling wing earrings.
A nice, big cocktail ring with pale pink & purple acrylic stones and cubic zirconia set in sterling silver. The shape looks almost floral in person. The pale pink stone is a bit loose in the setting but otherwise, really pretty.
This ring is probably my favorite piece I received. Super sparkly and gorgeous in person, much more than what this photo shows. It looks really expensive and looks nice paired with my wedding ring.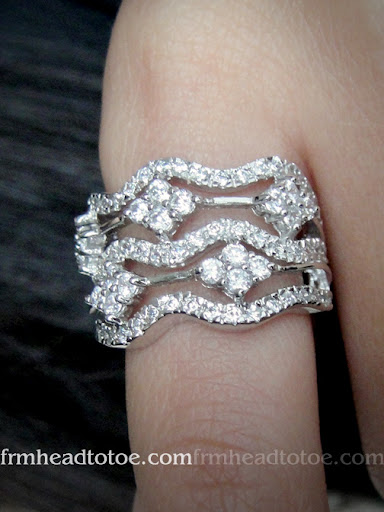 This aqua cat's-eye horn/claw necklace is actually pretty small and dainty when worn and has a transformative quality to it. In some angles it's a glowy, opaque pale blue while in others it's translucent. I like it most when seen at a diagonal angle. I think it's a cool effect but I wish the little bolt at the top of the horn were hidden somehow. It just looks much nicer when opaque and hidden. Still quite pretty though.
(Also, looking back at these pics, did you notice how long my natural nails have gotten? :D I'm so proud of them since I usually have a big problem with them breaking and peeling. I've been using a new product that I'll be sharing with you soon!)
Now onto the giveaway. One viewer will be winning a
$50 gift certificate
toward beautiful jewelry courtesy of Jewelry Payless! All you have to do is be a frmheadtotoe
Youtube subscriber
and
Twitter follower
.
Please leave a comment on this blog post with the following:
1. Your name
2. Valid e-mail address to contact you if you win
3.
Youtube
screenname (must be a subscriber. I will check!)
4.
Twitter
screenname (must be a follower. I will check!)
5. Your favorite Jewelry Payless item and the outfit you'd pair with it. :)
This giveaway is open to everyone and runs until November 15, 2010. Entrants under 16 must ask parents for permission to enter. Winner will be picked randomly from valid entries. Good luck!
Disclaimer: Items in this review were sent to me by
www.jewelrypayless.com
for consideration. Honest reviews, as always!