Double Eyelid Tape Makeup Tutorial
5:46 PM
Hey guys, just thought I'd do a little tutorial for the girls who are single-lidded and want to know how to apply makeup with eyelid tape. It seemed like a useful thing to do. I know a lot of people might get all controversial over this, but like I said, I mean this to be useful and a helpful thing for single-lidded girls who want variety to their look. This tutorial can also be used for girls with double lids. Just for the record, I do love my single lids too (of course since I've made tutorials!) but I love the freedom of variety and I haven't seen any tutorials like this. Please be open-minded and feel free to send me your results! :)

FAQ

1. What are single-lids and double lids?
Single lids are eyelids that don't have a crease above the lash line. Double lids do. There are many naturally double-lidded and single-lidded Asians in the world.

2. What is eyelid tape?
Eyelid tape is a small, curved strip of medical tape used to form a crease on the eyelid. Some say that it stretches out the lid, but I find that if you put some water on the tape at the end of the day, it comes off with no tugging.

3. What brand of tape did you use?
I used "Eye Charm" (아이참) brand, but it's not really my favorite. It gets the job done though. Just find whatever fits you best.




TOOLS
All mascara and eyeliners are in black.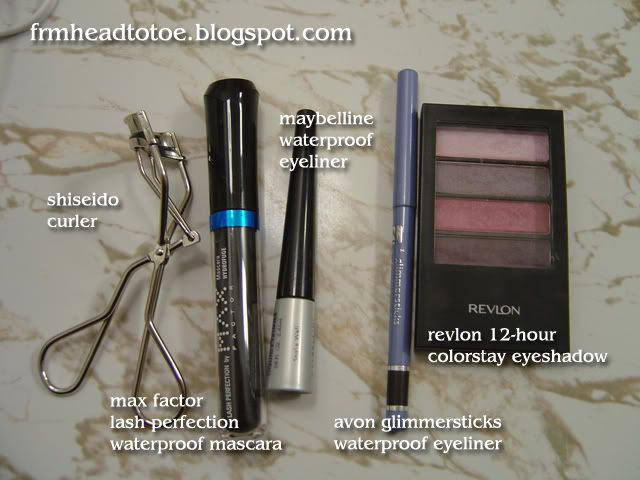 Step 1.
First, apply the tape. Try to make it so that the crease is a natural size for your eye shape and size. This might take a few tries so don't get too frustrated if you can't get them even the first time! Practice makes perfect and soon you will know what looks best on you.

Step 2.
Next, apply highlighter (color 1 in the revlon palette) to the brow bone. Use a medium shade (color 3) and apply color to your lid above and to the outside of the tape. The color should fade in, about 2/3 of the way into your lid.

Step 3.
Add a darker color (color 4) as contour to your lid. Try taking a smaller brush and running it along the area right beneath your brow bone. It should almost make a "c" shape and the color is stronger at the edges, and blended in.

Step 4.
This is the key to looking natural! Take a black, matte liquid liner and draw a line that covers the space under the tape and also slightly on top of the bottom edge of the tape from inside to out. It is especially critical to cover the tape on the inner half of your eyelid, as this is the part most likely to show when your eyes are open. Be patient and take it slow since this part can get tricky!
Note: you can cover more of the tape with eyeliner for a more dramatic look, or cover it completely and put black eye shadow around the tape for a smokey-eye. Just make sure to match the liner on the tape and the liner on your skin so it is seamless.


Step 5.
Curl your lashes with an eyelash curler and apply Max Factor Lash Perfection Waterproof mascara to top and bottom lids. (I prefer to use the non-waterproof version on just my bottom lashes as it makes them longer and less sticky.)

And you are done! Natural-looking double lids. :)